Justin Grant
UX Researcher
Emerging Agriculture Technologies
Plowing the way for accessible agriculture technology to farmers around the world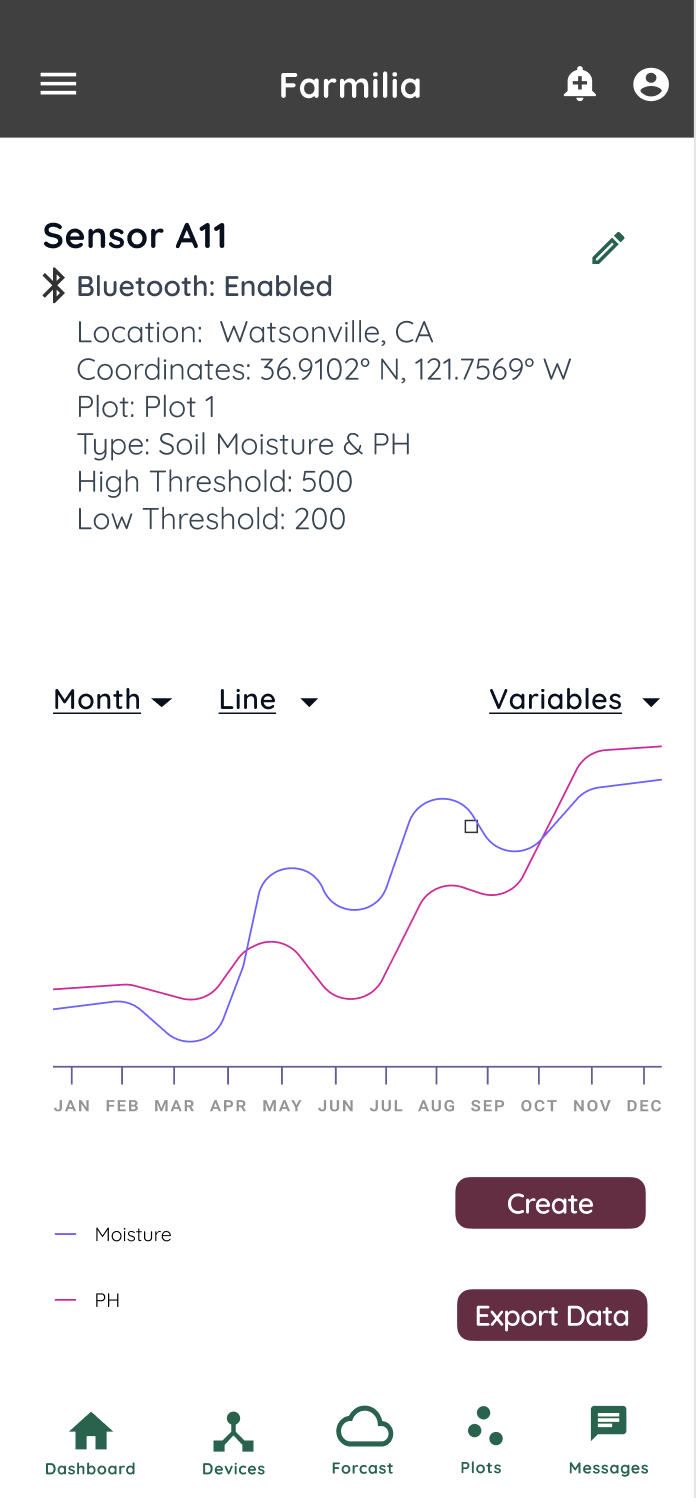 Impact
My generative prototype provides small and large scale farmers access to technology that provides actionable insights to increase food production, limit resource waste, increase profits, and reduce carbon emissions.
Role
UX Researcher

UX/UI Designer

Project Manager
Project
Application concept for Human Computer Interaction Design at UCSC.
Tools
Figma,Zoom, Phone, Google Forms
Semi-Structured Interviews

Prototyping

Competitive Analysis

Focus Group
Personas

User Flows

Customer Journey Map

Empathy Map
Low & High Fidelity Mockups

User Stories

Sketching

Wireframes
Arduino Prototyping

3D Prototyping

Video Prototyping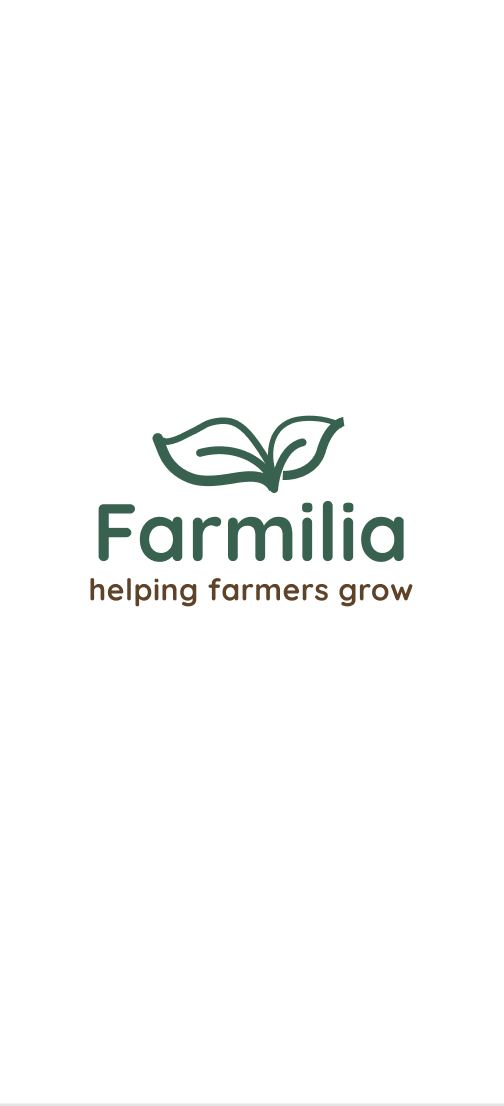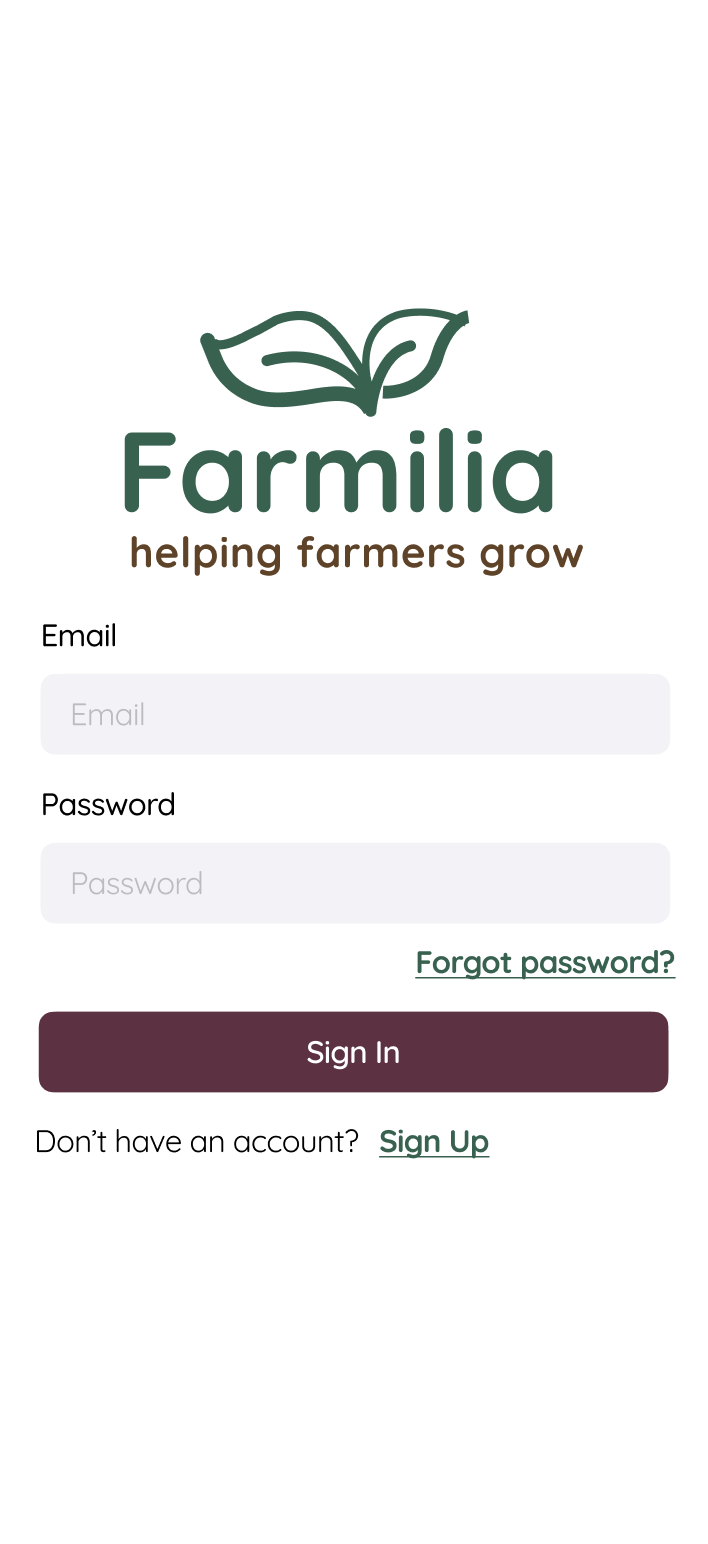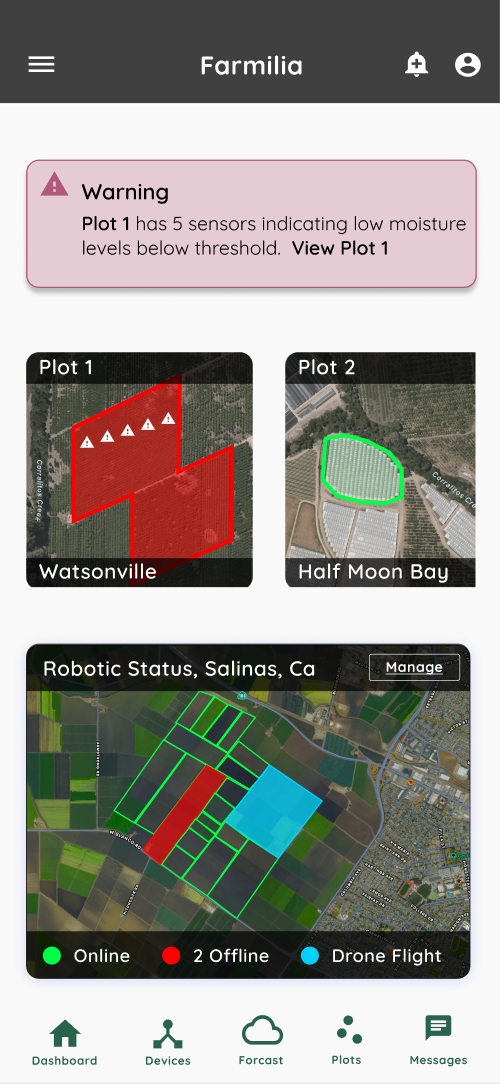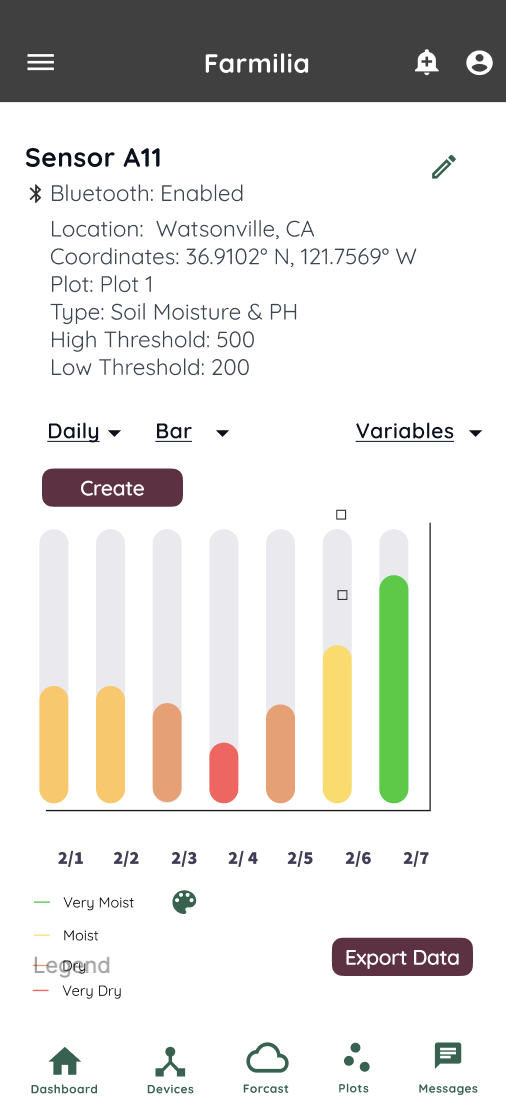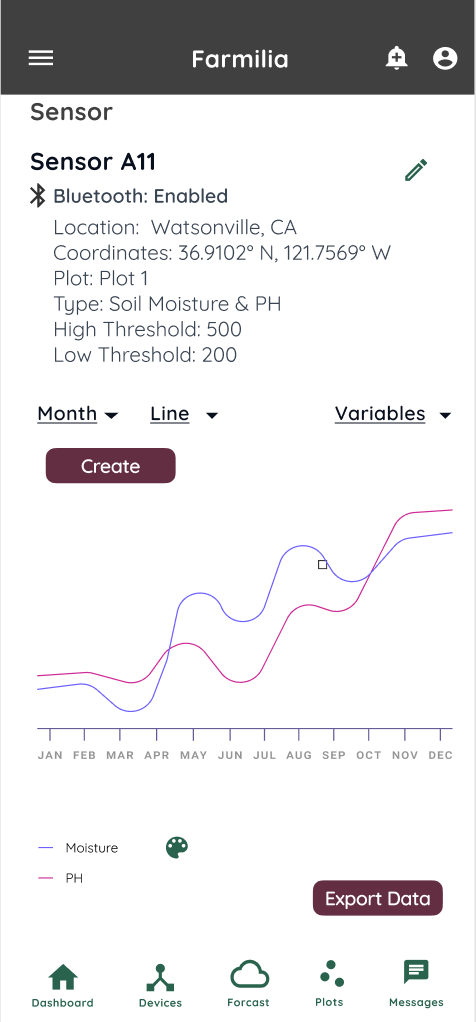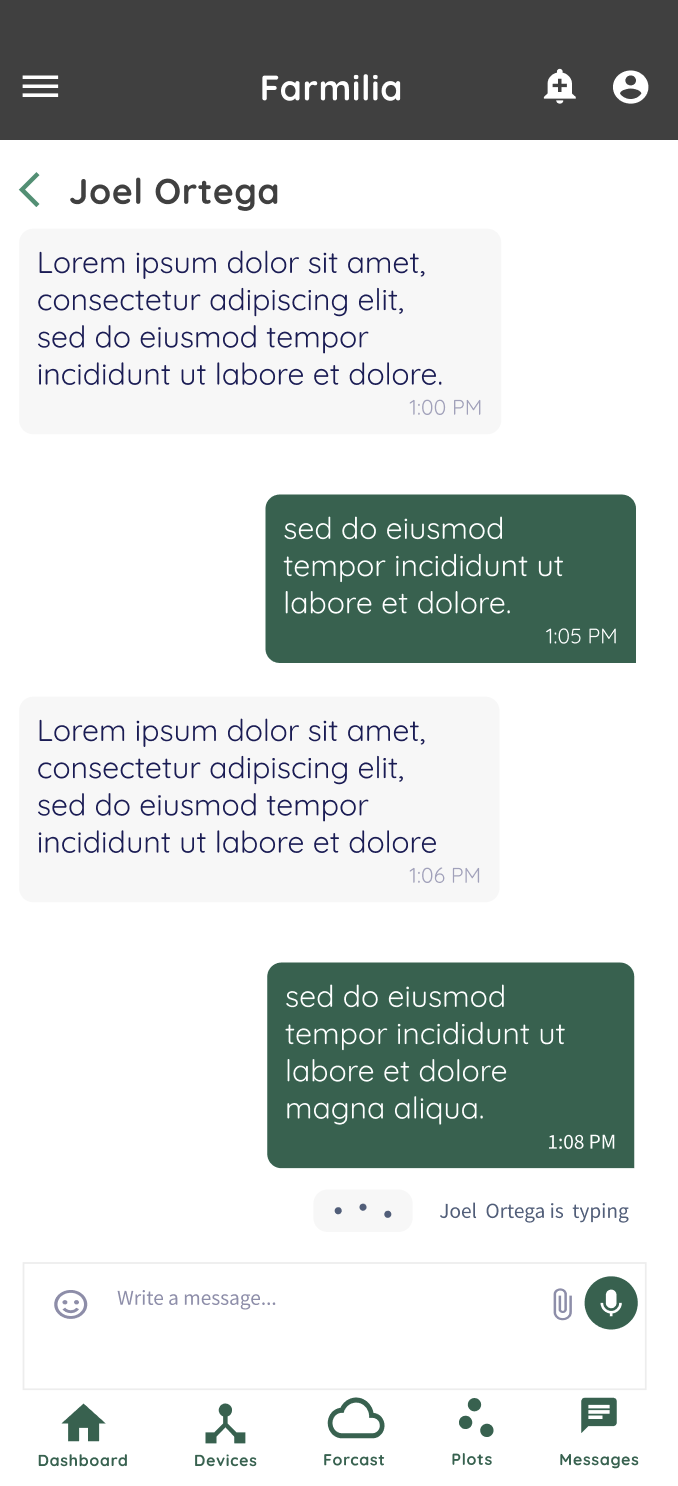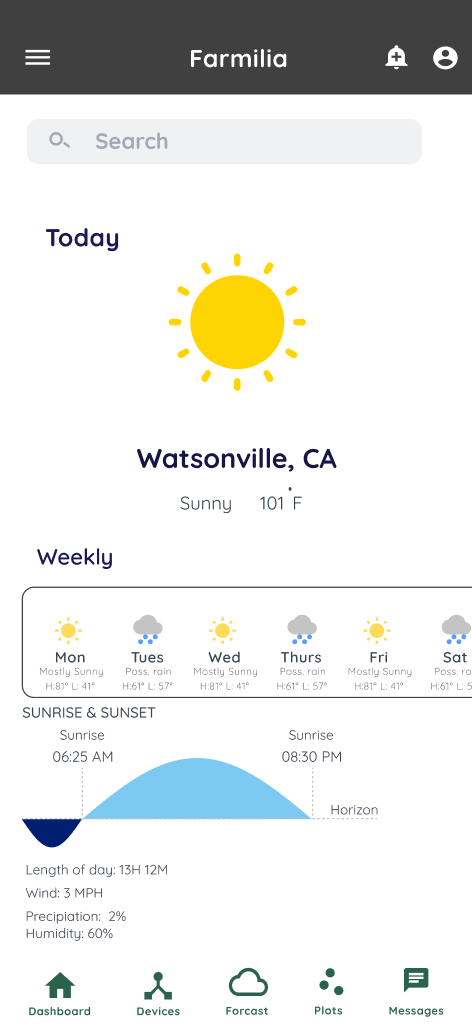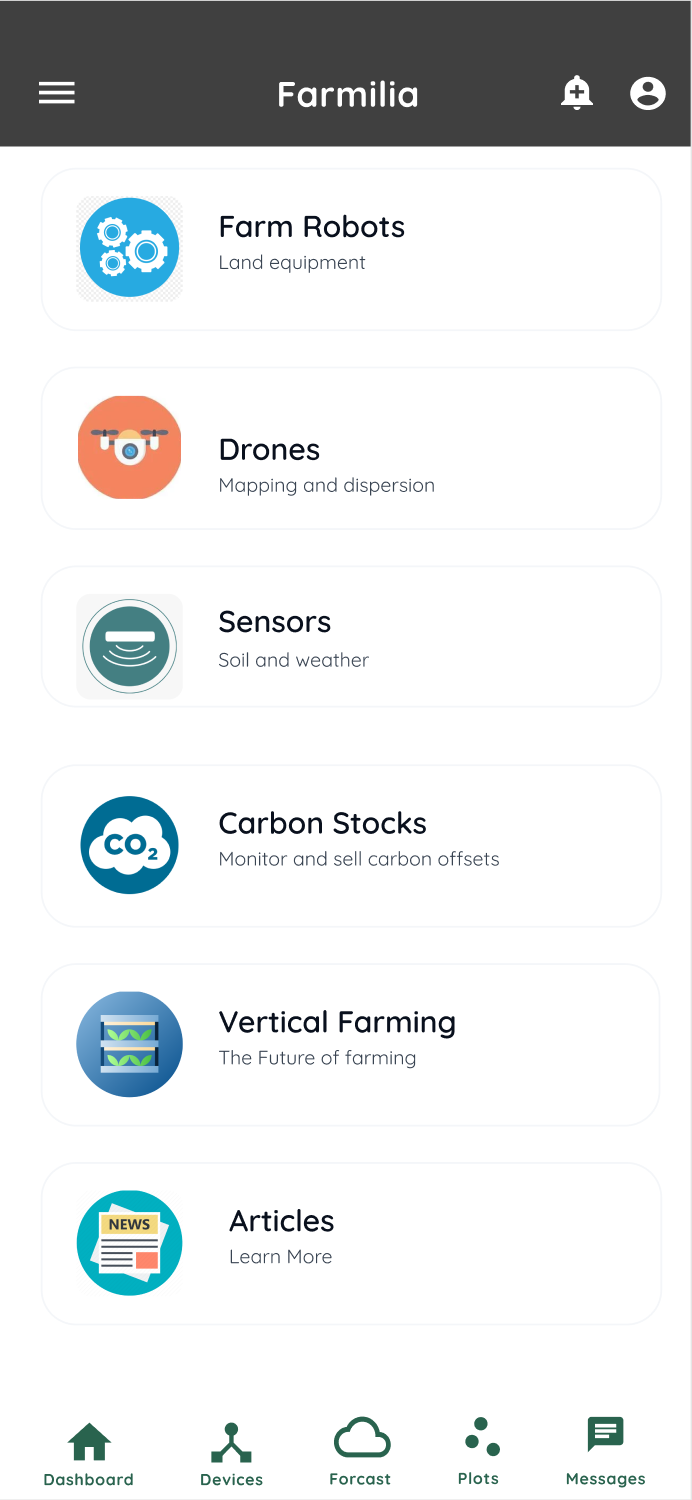 Below sums up some of the ups and downs we had with this project.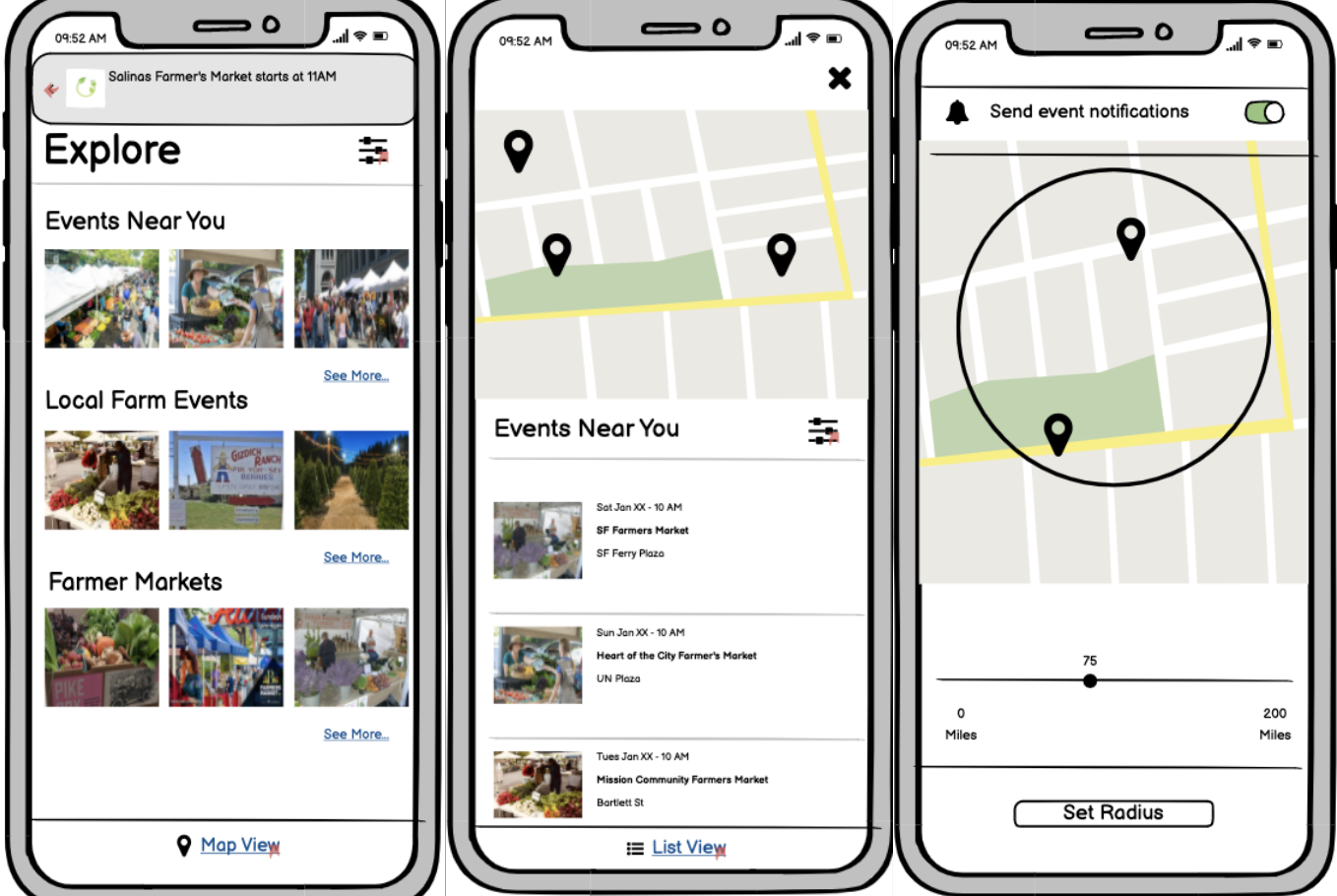 Oops, we made a mistake...
How we re-designed the solution
Our first design was full of ideas but they didn't work together. We tried to make two application into one. We wanted to connect farmers with consumers and consumers with farmers, while helping farmers manage their crops on one application. This idea tried to piece together a marketplace for consumers and a marketplace for farmers to research, purchase, and manage agriculture products like vertical farming, drones, sensors, and other IoT. We learned from a focus group that this idea was not economical feasible or business friendly, so we focused on an application for farmers to manage drones, sensors, and other IoT.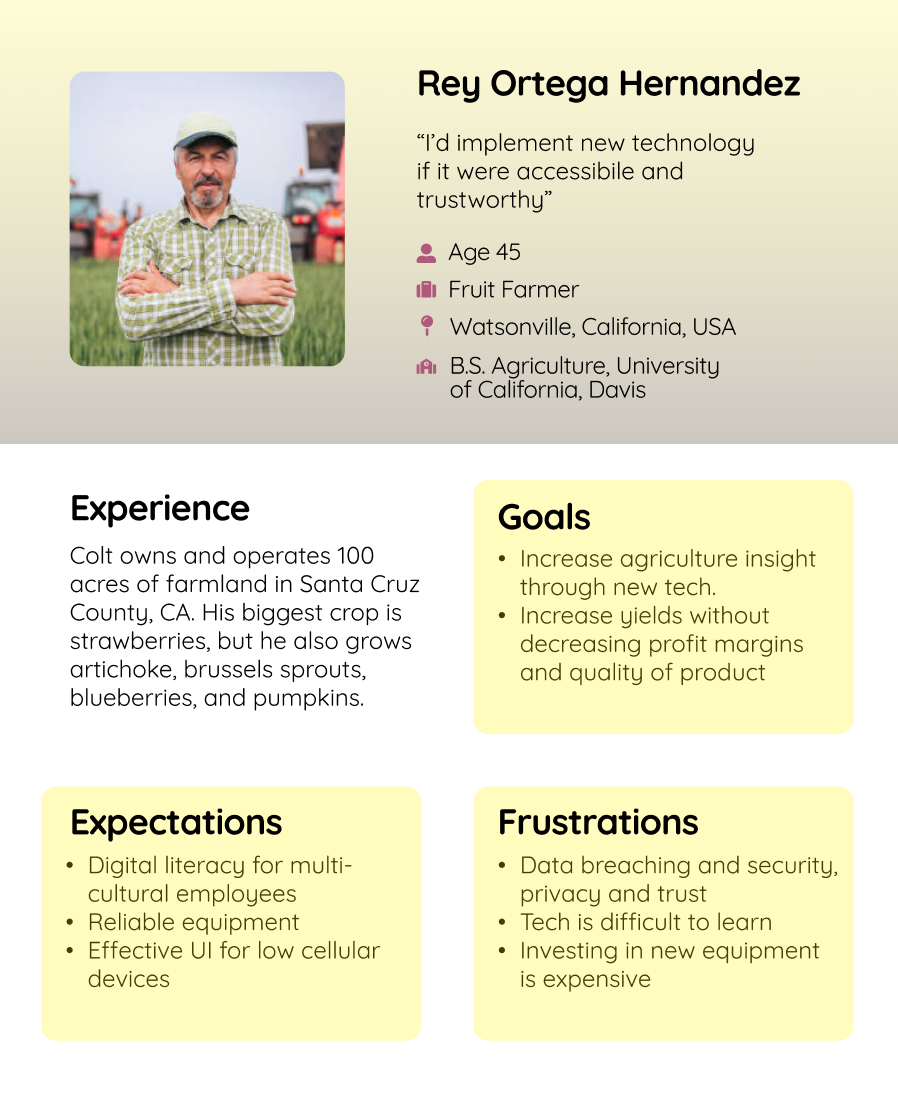 Creating the Persona
Personas are not necessary in every circumstance, yet we found it necessary to compile all of our research into one persona to help us stay focused on our goals, user frustrations, and expectations of our potential customers.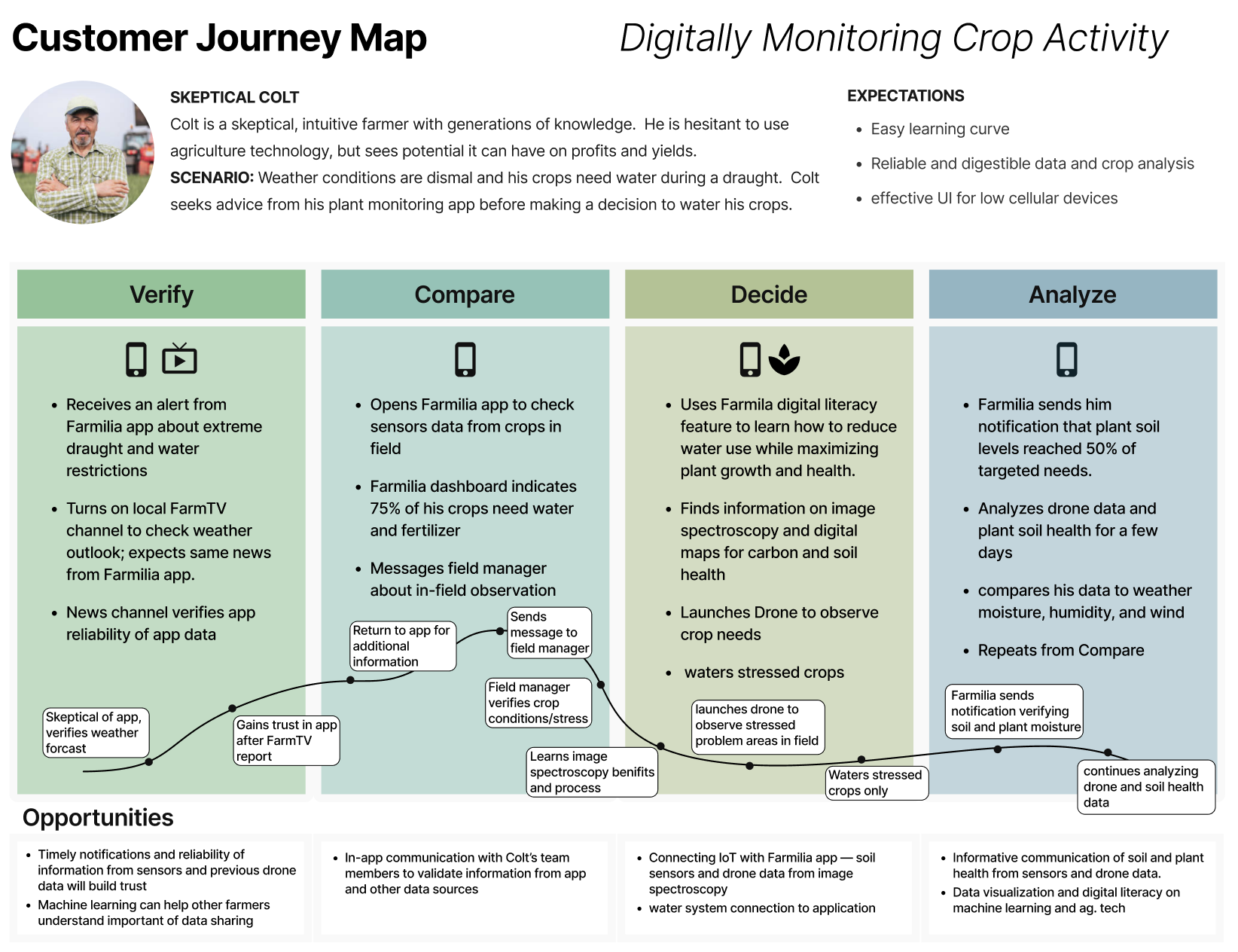 The Customer's Journey
This customer journey was inspired by our user interviews. It helped us create a map and forced us to have conversations to move forward with aligned mental model for the whole team. It also helped share an artifact that resulted in better communication and an understanding of our user and cutting-edge product.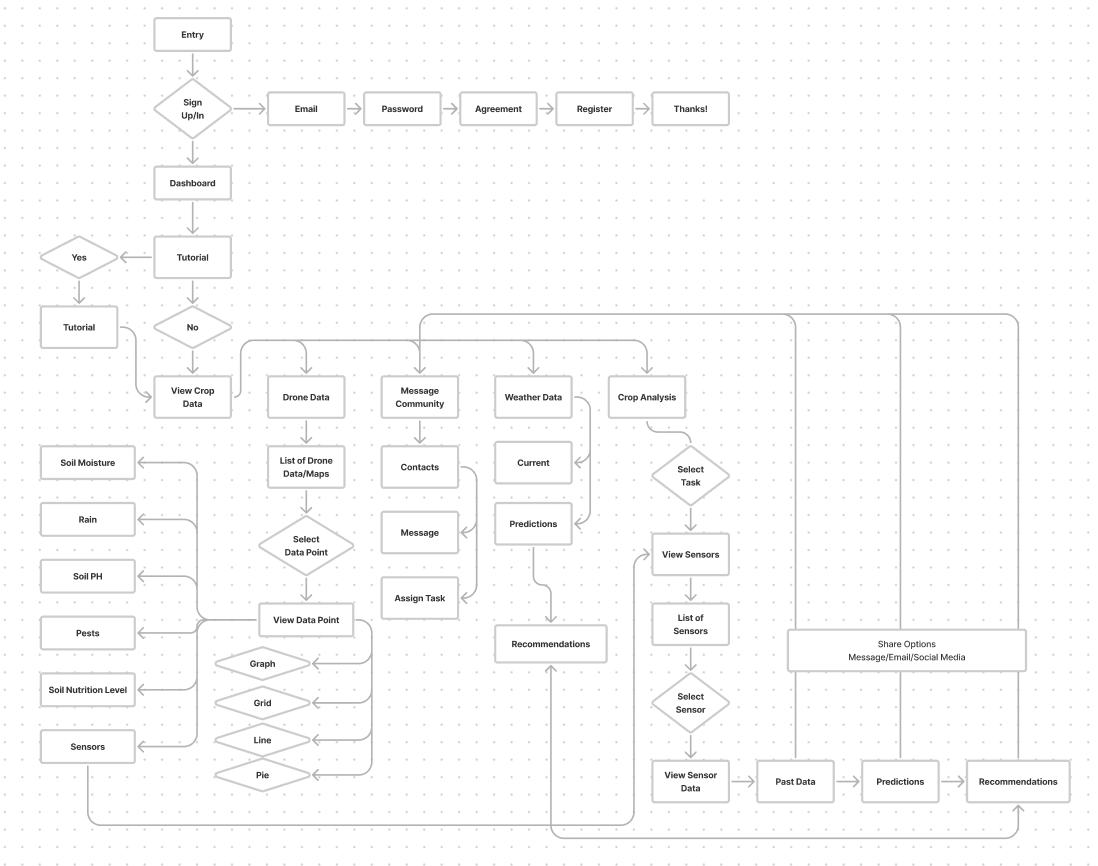 Mapping the Flow
From the customer's journey, we were able to successfully map the flow of the new product. The flow has a lot of information, and is a little messy, but it helped us understand where to go next and what to design first.
Research
Exploring the Problem
With little adjustments, farming practices are engrained in methods that are thousands of years old: till, plant, water, harvest. Why do farmers use out-of-date farming method?
Why is this important?
Connecting farmers to Digital Solutions and making consumers aware of farmers responsibilities creates a social and communal bond between food and table. Also, Implementing agriculture technology into farmer practices can be an opportunity for farmers, workers, communities, and strengthen local and global markets. If farmers implement agriculture technologies, they will increase their process, reduce work demands, and feed growing populations.
How might we increase farming efficiency?
How might we increase the efficiency of farming techniques while decrease expenses and increasing harvesting yields (without GMOs)?
Secondary Research — Literature Reviews
Digging into this project, I reviewed literature on digital agriculture for large and small scale producers. This research was used to guide the direction of this project.
Key Findings from Literature Reviews
Smart Farming
Smart farming with technologies such as IoT, computer vision, and AI can improve agriculture efficiency, transparency, profitability, and equity for farmers in low and middle-income countries.
Food and Agriculture Organization of the United Nations (FAO) Report
The Food and Agriculture Organization of the United Nations (FAO) reports that, compared to 2010 levels, global food production needs to increase by 70% prior to 2050 to feed the world's growing population, which is expected to reach between 9.4 and 10.2 billion by then.
Digital solutions
Digital solutions can improve access to finance, advisory, insurance, and market services for millions of smolders.
Innovations
Innovations in connectivity, sensors, AI digital infrastructure, and usability are needed to drive the adoption of digital agriculture for smallholder farmers.
Semi-Structured Interviews
Our direct stakeholders included farm owners and one field worker. We conducted semi-structured interviews on all of our direct stakeholders.
Our interview phase provided us with a general overview of farmers' thinking about agriculture technology and how they could see themselves using it. We also discovered hesitancy and lack of trust in technology as described in our preliminary research.
Competitive Analysis
NASA Jet Propulsion Laboratory (EMIT Research and Technologies)

Cloud Agronomics

Indigo Ag

Planet

USDA
Design Solutions
Based on research from the literatures reviews and semi-structured interviews.
Easy-to-Learn for farmers and accessible on multiple devices

Support Real Time Data and Analytics without the need for direct data explanation

Timely notifications and monitoring capabilities in remote locations.
Data Trust and Security
Sharing agriculture and farming practices could benefit the entire agriculture industry. A secure data platform, peer-to-peer and privacy-preserving data-sharing models, and data market places will provide stakeholders with choices about how to share data with appropriate protections against misuse, and with privacy and consumer protection laws.
Digital Literacy
Globally, many farmers in low to middle incomes are not literate and technology skills are low. Adding technologies to translate insights and to make them usable by farmers is crucial. A new UI for smartphones that is accessible and easy to use with low cellular connectivity are needed to convey digital insights and design to get users needs.
Timely and Relevant Information
Relevance is one of the barriers to adoption of services. One way information services are more relevant is to base them on timely and spatially relevant data. With little in-field observations from the farm itself, existing solutions often rely on remotely sensed data from satellites. Higher-resolution and more timely data, and information and insights at an affordable cost, are required to enable farmers to be more precise in their operations and more resilient to climate-induced and other shocks.