Justin Grant
UX Researcher
Digital Mindfulness
Improving quality mental health through digital mindfulness and notification reduction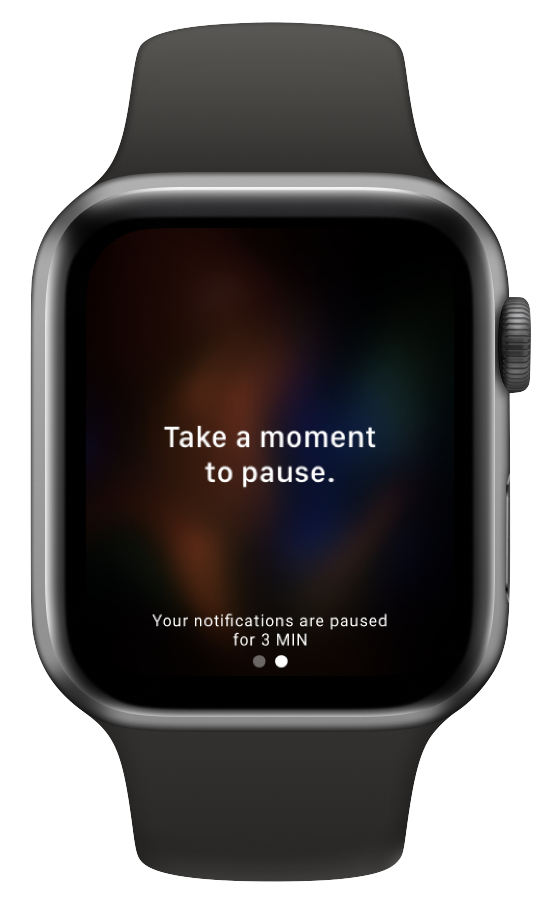 The Impact
Through my research, I discovered essential design changes to increase mental health engagement with technology, reduce unnecessary distractions during mindfulness exercises, increase user satisfaction and build trust with wearable technology.
Role
User Researcher & Designer
Project
Mindfulness design recommendations from heuristic evaluations and literature reviews.
Tools
Figma, Apple Watch, Digital Libraries Archives (ACM)
Experience Design Research

Literature Review

Focus Group
Heuristic Evaluation

High Fidelity Mockups

Competitive Analysis
Why Design for Digital Mindfulness?
72%
"of US teens check for messages or notifications as soon as they wake up (PEW Research Center, 2018)"
30 mins
"30 minute increase
in time spent on computer games increases the likelihood of reporting lack of sleep by 50%"
23 hours
"Americans spends about 23 hours a week on social media alone!"
Reducing the negativity surrounding social media
Social "media use has been linked to increased anxiety, depression, sleep disruption, [and] anti-social behavior" (McNamara, 2021).

Technology is causing mental health issues such as addiction, negative self-esteem, and overwhelming reliance through excessive screen time and other factors (Wang, 2021)
Social media is great for digital socializing! With active mindfulness, social media doesn't have to be a negative statistic. Why is social media to blame? I believe technology can empower the user to make mindful decisions. The Apple Watch Mindfulness session is just one example. But, it needs to fix one thing as noted below.
Apple Watch Mindfulness Activities: A heuristic evaluation from my research
The intention of Apple's Reflect Session is designed to bring attention to a phrase and the action to reflect on the phrase. However, as seen in slide 5 below, if a notification disrupts the session, the user's entire intention is disrupted.
Exploring the Problem
What is Digital Mindfulness? Therapeutic practices and psychological concepts:
Intention: cognitive process of noticing new things

Attention: self-regulating

Action: orientating to experience
However, technology interferes with this process because it can make an individual forget what matters (intention), distracts (attention), and keeps from taking action.
The Apple Watch Mindfulness Reflect Session encourages mental health and wellbeing through guided meditation. However, at the time of this design change, the application failed to pause notifications for the user.
Technology can help solve the problems it created. With apps like Apple Watches Reflect sessions, people can focus on specific areas of mindfulness to reduce anxiety, addiction, and improve mental health. But, why does Apple allows notifications to happen during a "Reflect Session"
Why is this important?
Several studies demonstrate that smartphones are a source of distractions that interferes with daily activities and ongoing tasks such as studying, working, and driving. Distractions can be caused by external stimuli, e.g., notifications, but also by internal stimuli, e.g., users that interrupt themselves by frequently checking emails. Users that experience frequent and unpredictable external or internal interruptions, in particular, tend to feel less productive and more stressed" (Monge et al. 2).
How might we use technology to solve a problem caused by technology?
Secondary Research — Literature Reviews
Exploring mindfulness and technology, at the time of this research, was a new are of work from researchers, designers, and experts in the field. It wasn't until 2018 that mental health and mindfulness because an important news topic. However, I unearthed a considerable amount of key findings from reading and researching several published papers.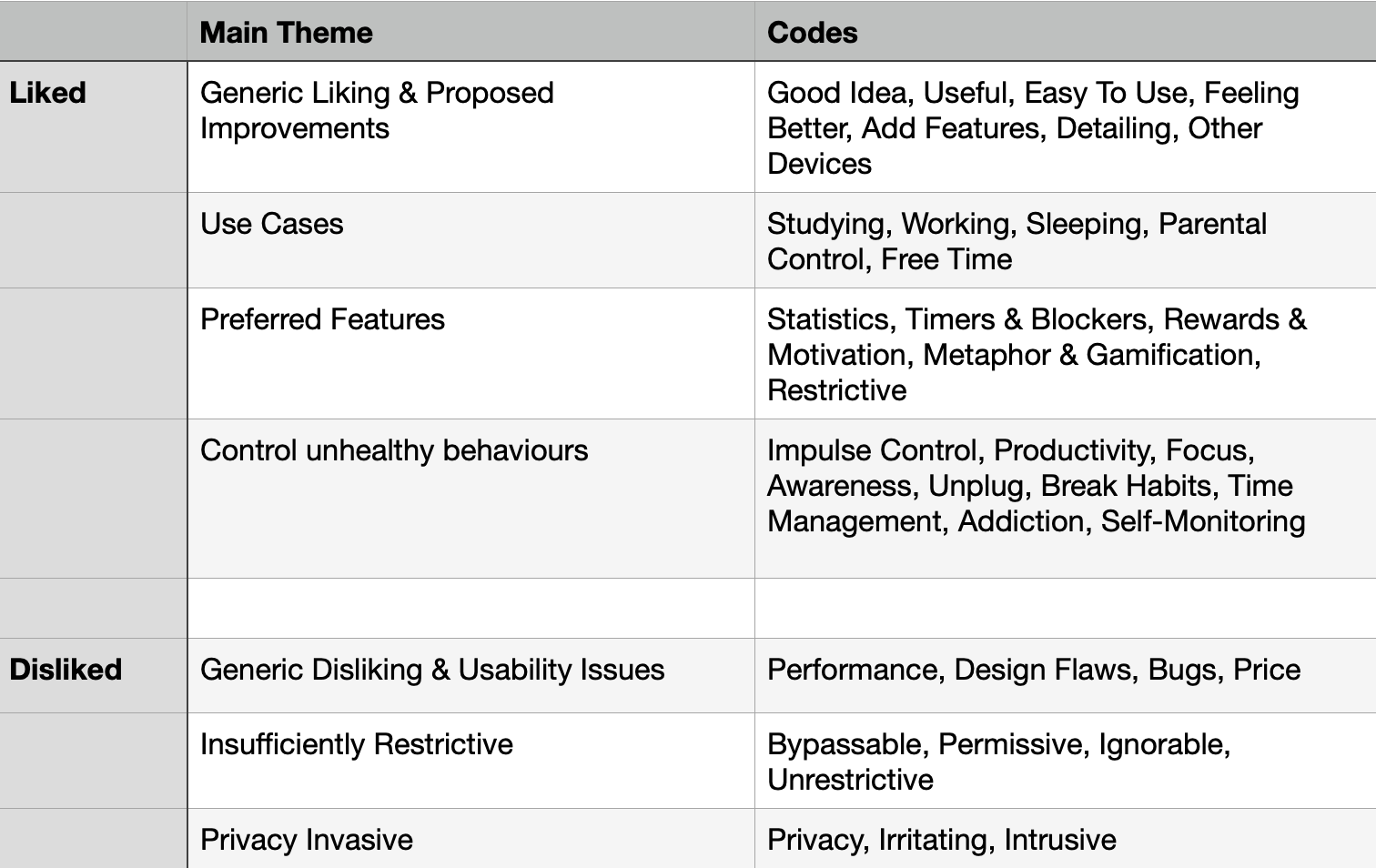 What is digital mindfulness: the importance of defining it
Kelly McGonigal, PhD, Stanford University, defines mindfulness in three parts: intention, attention, and action. It's not recommended to force mindfulness upon a user, because "digital technology may actually embody anti-mindfulness, so there is a certain irony to be mindful of in looking to human-computer interaction for new strategies to re-balance us" (Terzimehić, 8).
Digital Wellbeing Tools: Likes and Dislikes for Self-Monitoring Tools
Contemporary digital wellbeing apps are mainly focused on supporting self-monitoring, i.e., tracking user's behavior and receiving feedback, but are not grounded in habit formation nor social support. Moreover, self-monitoring designs and products are easily disregarded by a user because of boredom and inefficiency, so gamification and social sharing features will help increase the efficiency, attention and longevity of an interaction with a digital product.
More Key Findings
Attention Restoration and Relaxation Response: Mindful Interactions and Reflection
Professor Herbert Benson from Harvard Medical School, counters stress induced interactions and helps an individual become aware of what is causing stress in relation to an interaction with a digital tool. In order to induce relaxation, Benson recommends a "person directs and pays attention to the repetition of a word, sound, phrase, prayer, or muscular activity" while disregarding "everyday thoughts that inevitably come to mind. (Cheng et al., 3).
Simple design requirements
"focus on slowness of appearance and presence"

What a moment… think about… while processing interaction with technology

Focus on aesthetics of material and use simple basic tools of modern technology

What does the design feel like?

Don't overwhelm the user
Design tools for NEW habits and behavioral changes
Interactive design

Attention restoration (slow, continuous and gentle bodily movements)

Relaxation response (direct attention to a word, phrase, prayer, muscular activity)

Reflective design

Critical design, Gamification, Social sharing

Embodied design

Wearables, VR/AR, and other IoT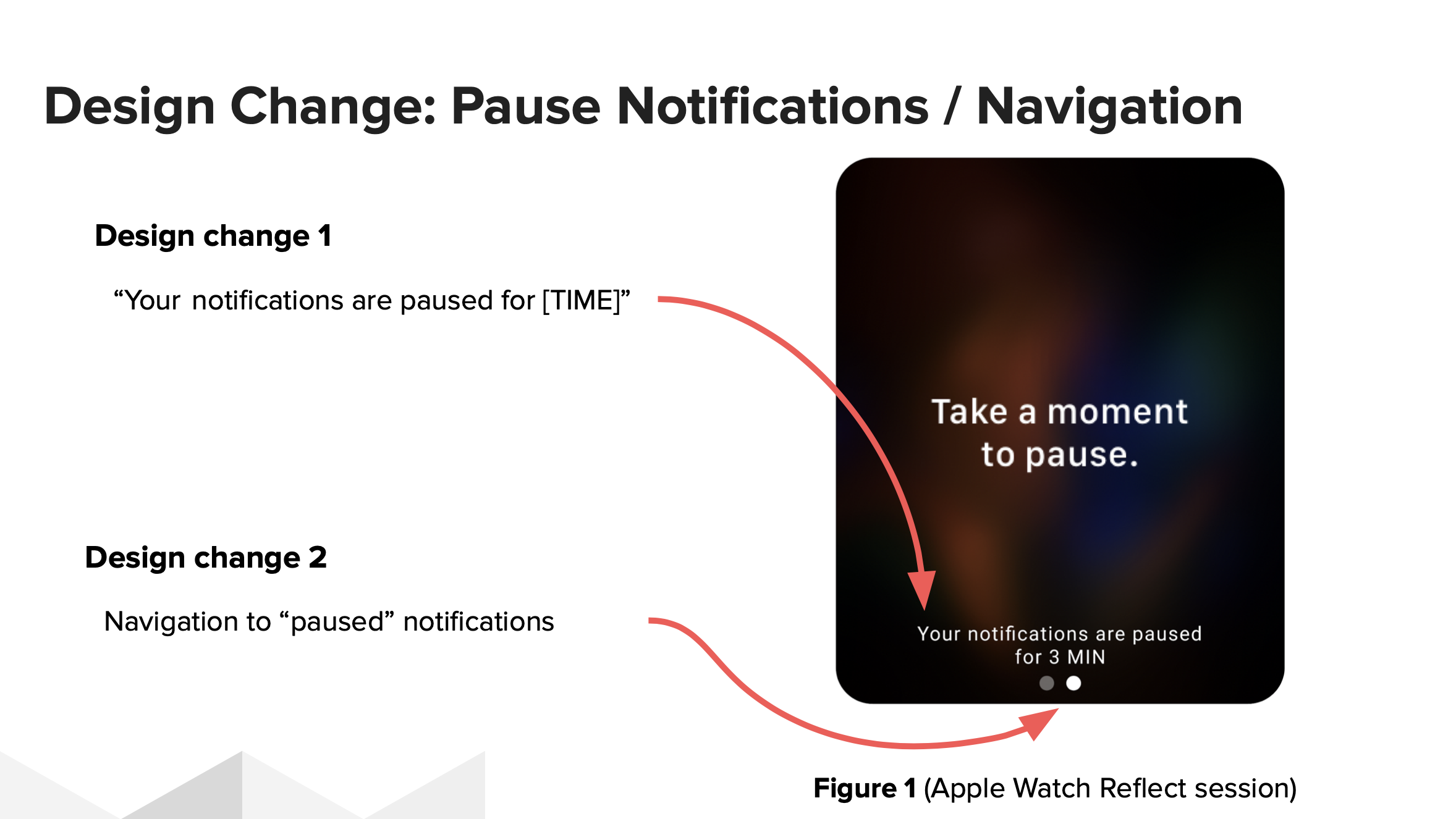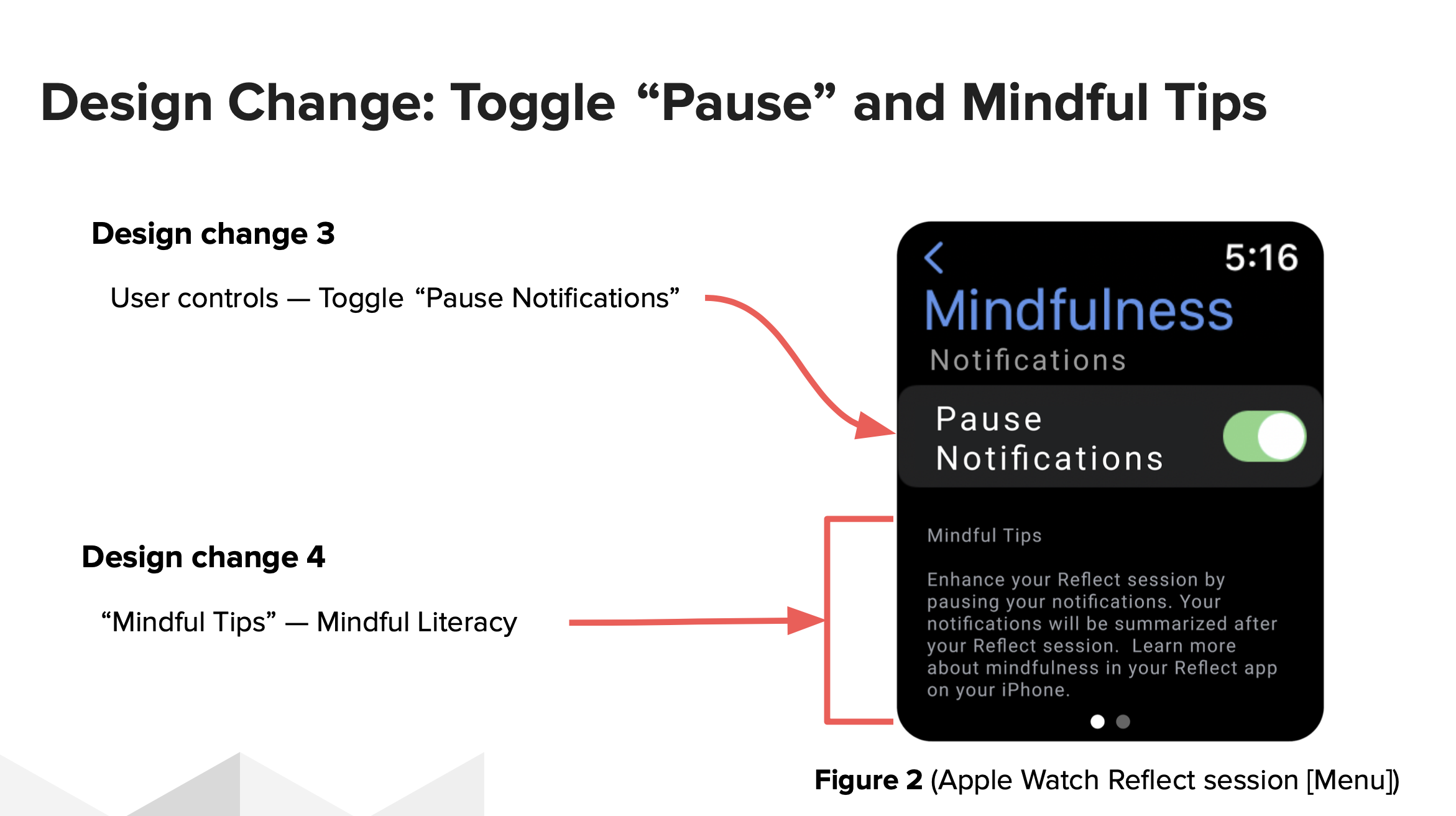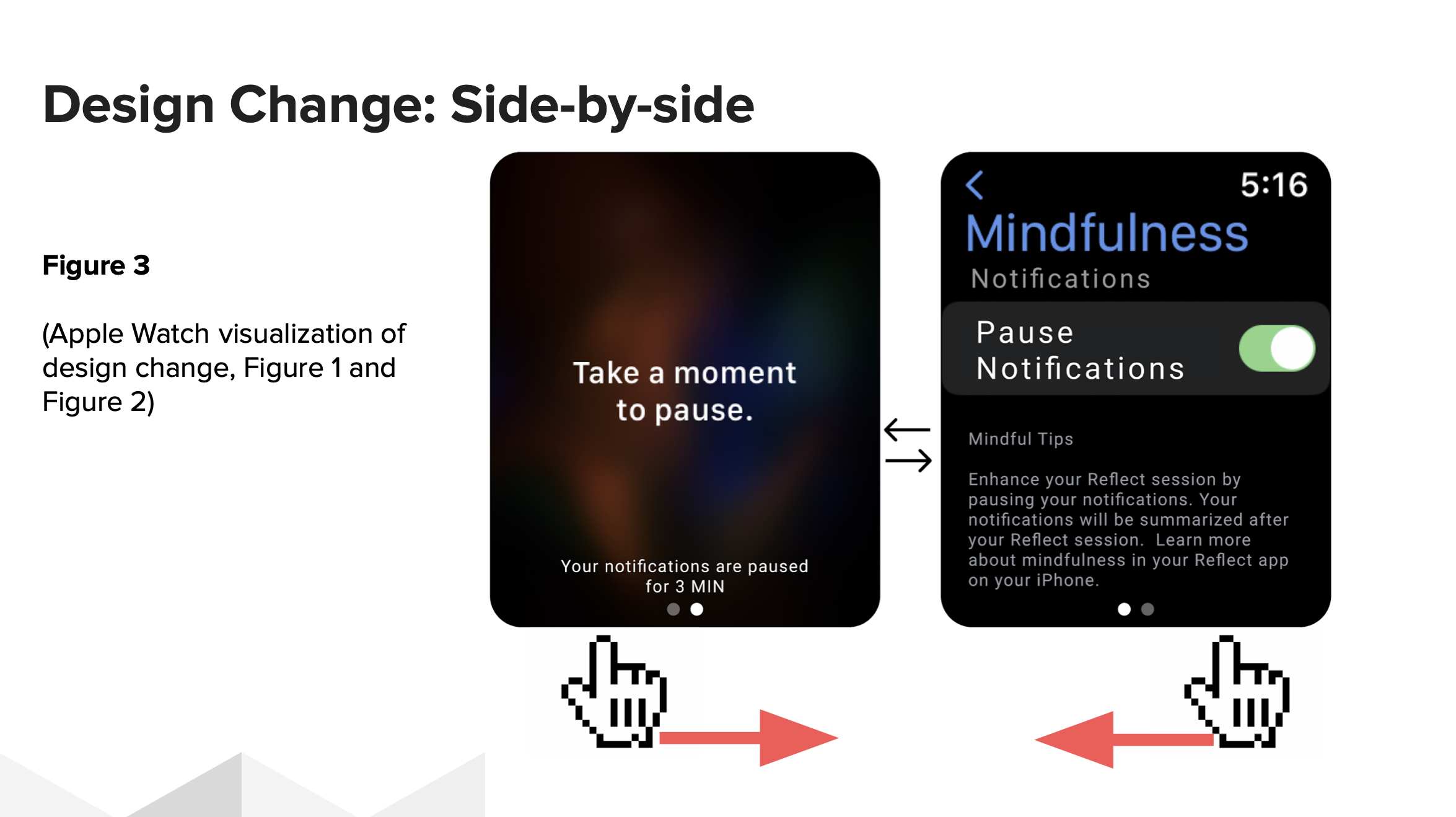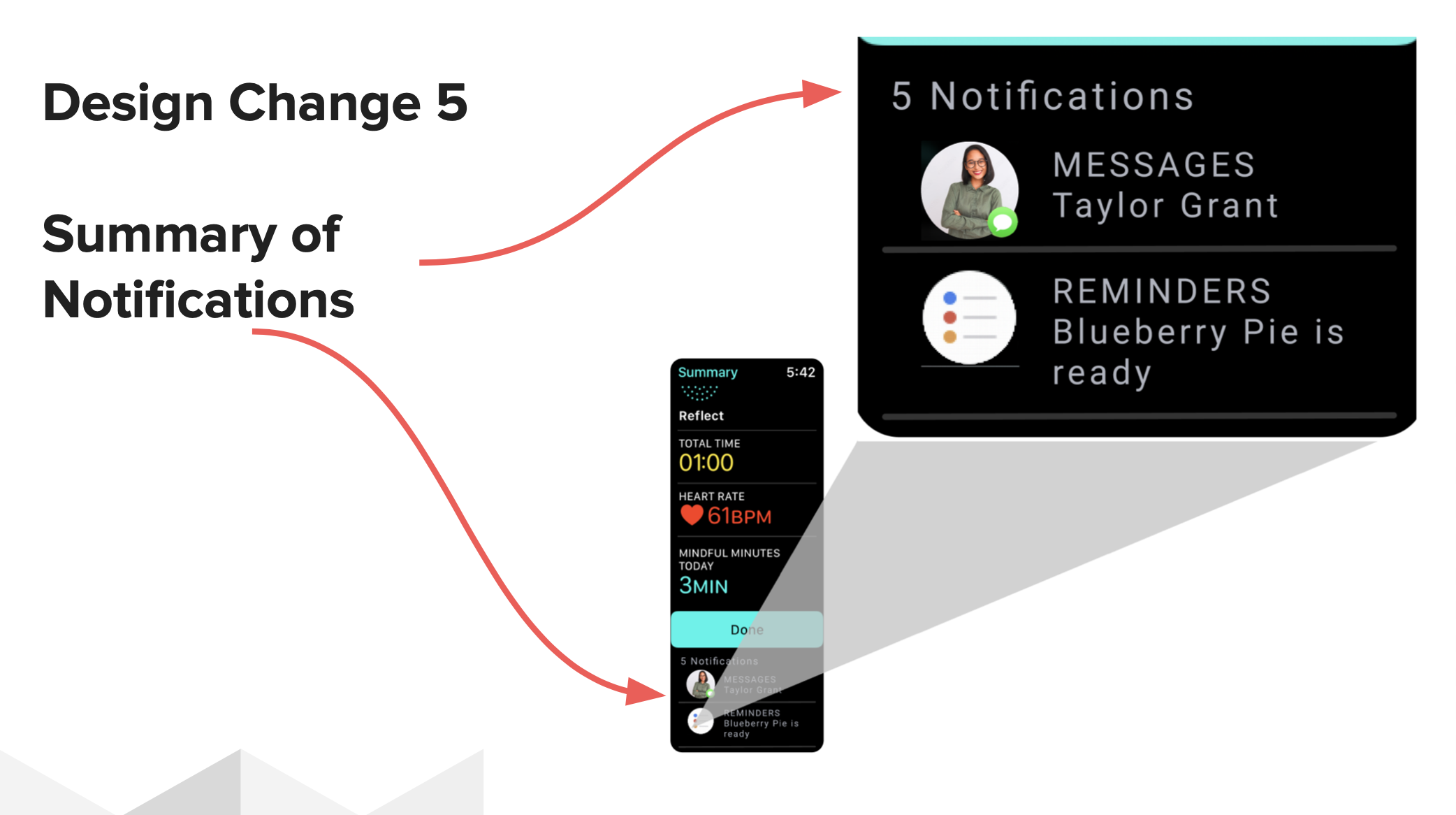 Challenges
Mental health and mindfulness is a new topic of interest and research, and still comes with a stigma for some individuals. Knowing what works best for each person requires careful reflection and research with mental health experts and trained psychologist. While my research was rewarding and helped me iterate a design change for the Apple Watch, mindfulness still has a lot of room for improvement.
Literature Reviews
Cheng, P., Lucero, A., & Buur, J. (2016). Pause. Proceedings of the 20th International Academic Mindtrek Conference. https://doi.org/10.1145/2994310.2994342
Hallnäs, L., & Redström, J. (2001). Slow Technology – designing for Reflection. Personal and Ubiquitous Computing, 5(3), 201–212. https://doi.org/10.1007/pl00000019
Klemmer, S. R., Hartmann, B., & Takayama, L. (2006). How bodies matter. Proceedings of the 6th ACM Conference on Designing Interactive Systems - DIS '06. https://doi.org/10.1145/1142405.1142429
Long, K., & Vines, J. (2013). Mind pool. CHI '13 Extended Abstracts on Human Factors in Computing Systems on - CHI EA '13. https://doi.org/10.1145/2468356.2479588
Mindfulness and technology. Stanford BeWell. (2016, November 29). Retrieved November 24, 2021, from https://bewell.stanford.edu/mindfulness-and-technology/.
Monge Roffarello, A., & De Russis, L. (2019). The race towards Digital Wellbeing. Proceedings of the 2019 CHI Conference on Human Factors in Computing Systems. https://doi.org/10.1145/3290605.3300616
Neufeld, K. (2014, March 30). I love technology. Medium. Retrieved November 27, 2021, from https://medium.com/mindfulness-and-meditation/i-love-technology-364cc2272918.
Sengers, P., Boehner, K., David, S., & Kaye, J. 'J. (2005). Reflective design. Proceedings of the 4th Decennial Conference on Critical Computing between Sense and Sensibility - CC '05. https://doi.org/10.1145/1094562.1094569
Terzimehić, N., Häuslschmid, R., Hussmann, H., & schraefel, m.c. (2019). A Review & Analysis of mindfulness research in HCI. Proceedings of the 2019 CHI Conference on Human Factors in Computing Systems. https://doi.org/10.1145/3290605.3300687
Thieme, A., Wallace, J., Johnson, P., Lindley, S., McCarthy, J. R., Olivier, P., & Meyer, T. D. (2012). Can we introduce mindfulness practice through Digital Design? https://doi.org/10.14236/ewic/hci2012.81
Widdicks, K. (2020). When the good turns ugly: Speculating next steps for Digital Wellbeing Tools. Proceedings of the 11th Nordic Conference on Human-Computer Interaction: Shaping Experiences, Shaping Society. https://doi.org/10.1145/3419249.3420117
McNamara, B. (2021, November 10). Social media isn't just addictive - it's addictive by design. Teen Vogue. Retrieved November 29, 2021, from https://www.teenvogue.com/story/the-science-behind-social-medias-hold-on-our-mental-health.
Wang, A. (2021, October 25). Is tech addiction real? Medium. Retrieved November 29, 2021, from https://anyuanwang.medium.com/is-tech-addiction-real-7234dabd4a60.
Hire me!
Let's share ideas & discuss ways to collaborate!